27 Sep 2022
The Hotelier Edit: Niels Zandbergen of Hotel The Noblemen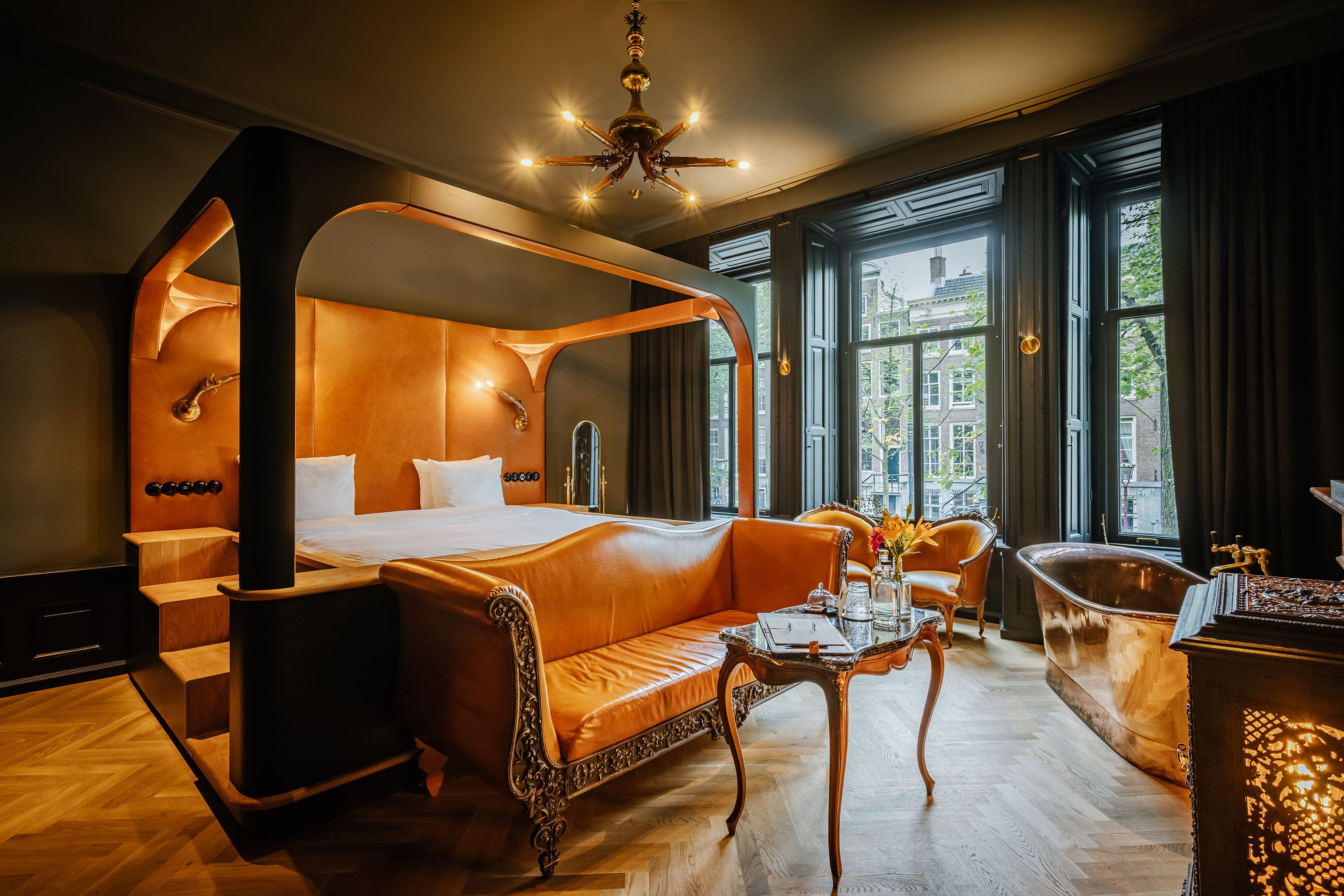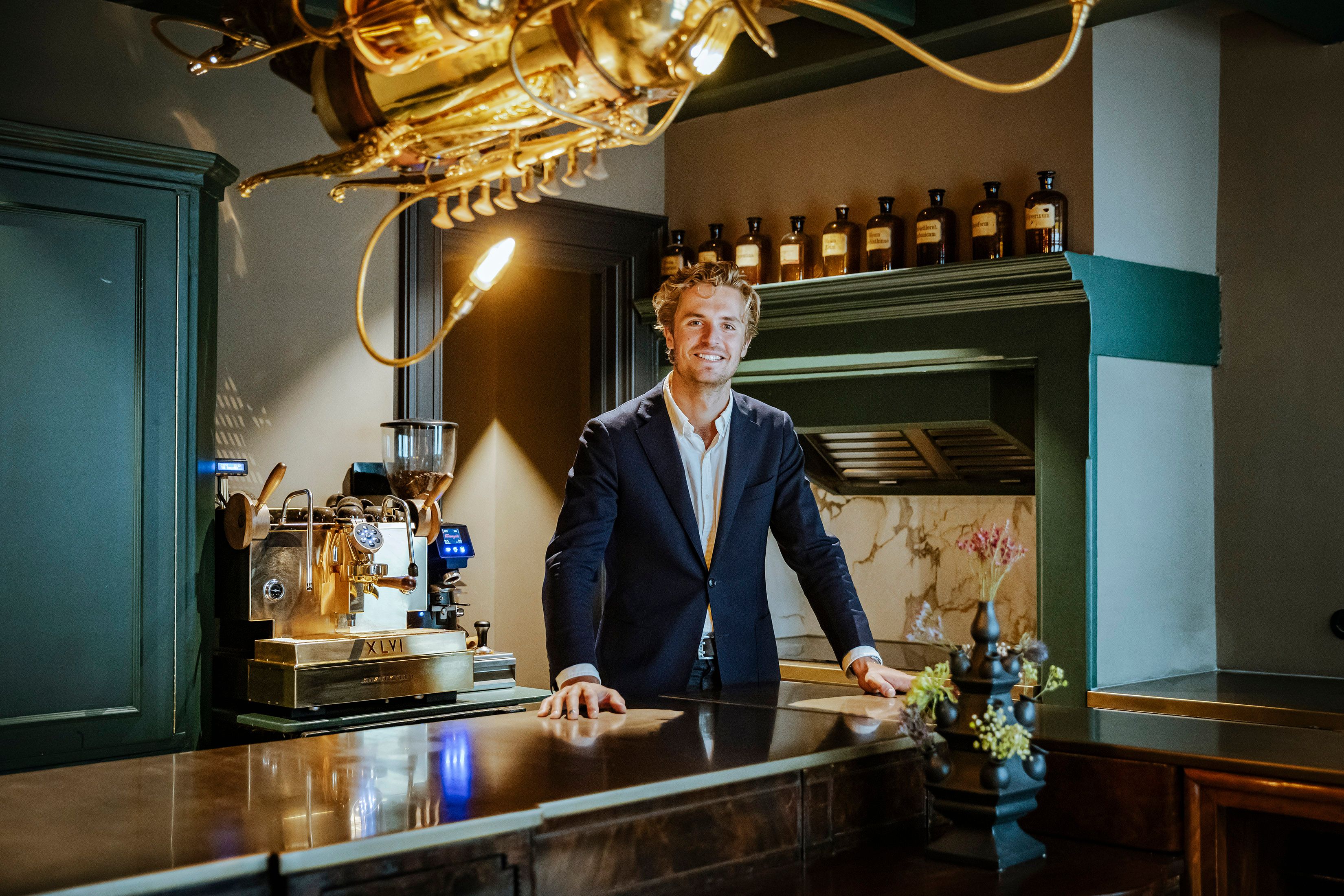 We recently took a trip to Hotel The Noblemen, a luxury boutique hotel featuring thirteen uniquely crafted rooms, each inspired by historically significant figures of the 17th Century. We had an insightful chat and tour with General Manager, Niels Zandbergen, who shared the design and unique concept behind the hotel and each room, his view on industry challenges, and the importance of staff training and retention in Hotel The Noblemen.
How long have you worked in hospitality and what led to the opening of Hotel the Noblemen?
It's a bit of a strange story; I studied finance and wasn't experienced in the hotel industry. I worked in the food industry, selling meat to hotels, and decided to open a two-bedroom bed and breakfast in my hometown, which I did alongside my studies.
The bed and breakfast turned out to be great and it went so well that I ended up quitting my job in the food industry and I thought I needed to do more with this. By coincidence, I met an elderly couple, and they wanted to sell their five-bedroom hotel. I saw there was potential in turning that space into a bigger hotel with more rooms, so we found a budget for the renovation and eventually turned it into a 15-room hotel.
I had to run the old hotel for half a year to get the permits once the work was done, to get everything in running order I began working with Stef van der Bijl, the interior designer of the hotel.
He's a really unique character who has great ideas, but he needed a team. That support is what my sister gave with The Craftsmen, and I gave him with The Noblemen. We couldn't have done it without him, and he couldn't have done it without us.
Can you describe the concept of Hotel The Noblemen?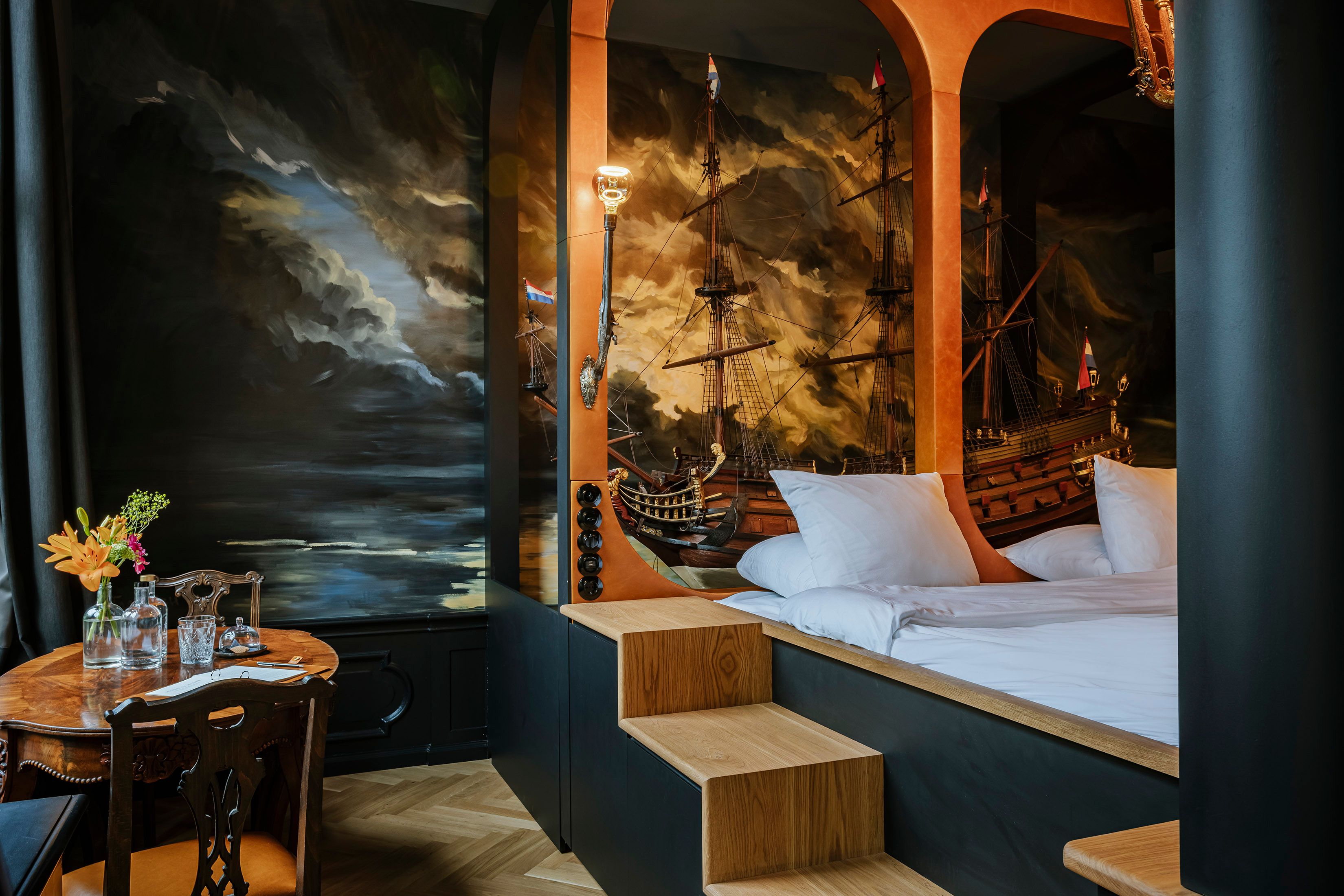 One part of the concept is the guest experience, and that's something you will often see on our hotel reviews. All our staff really give their best to the hotel and guests. The other part of the concept is the experience of the design, the unique details, and the storylines in the rooms.
Although our rooms are amazing, we also encourage guests to get out and explore the city. We often take a seat in the courtyard with our guests, offer them a coffee and then open the map. We ask about their plans and interests, and offer advice on how spend their time and where to dine. It is really interesting when our guests have some particular request, or a special occasion to celebrate. With the resources of the city at our fingertips, there are plenty of bespoke experiences we can help to arrange. All our staff live in Amsterdam and have a background to provide suggestions for guests to see the beautiful city and not just the touristy places.
How important is staff training at Hotel The Noblemen?
It's very important to all of our team, we ease new members in their training with a breakfast shift and then direct contact with guests usually comes after a few months of working here. Some employees learn quickly and have good social skills, so encourage them to learn under the tutelage of a more senior team member. Understanding the stories for each room is a very important part of our training, so I often take one or two employees to the rooms and ask them to check me in. I don't expect them to tell the full story, but I hope they remember one or two features of the room that are interesting, so they are able to share the importance of the features in the room with guests in the future.
We also have some students who join the team and work various shifts depending on their exam schedule. It's great to be able to help train the younger generation and have a variety of different people working in our teams.
What inspired the design of the hotel and which designers did you work with?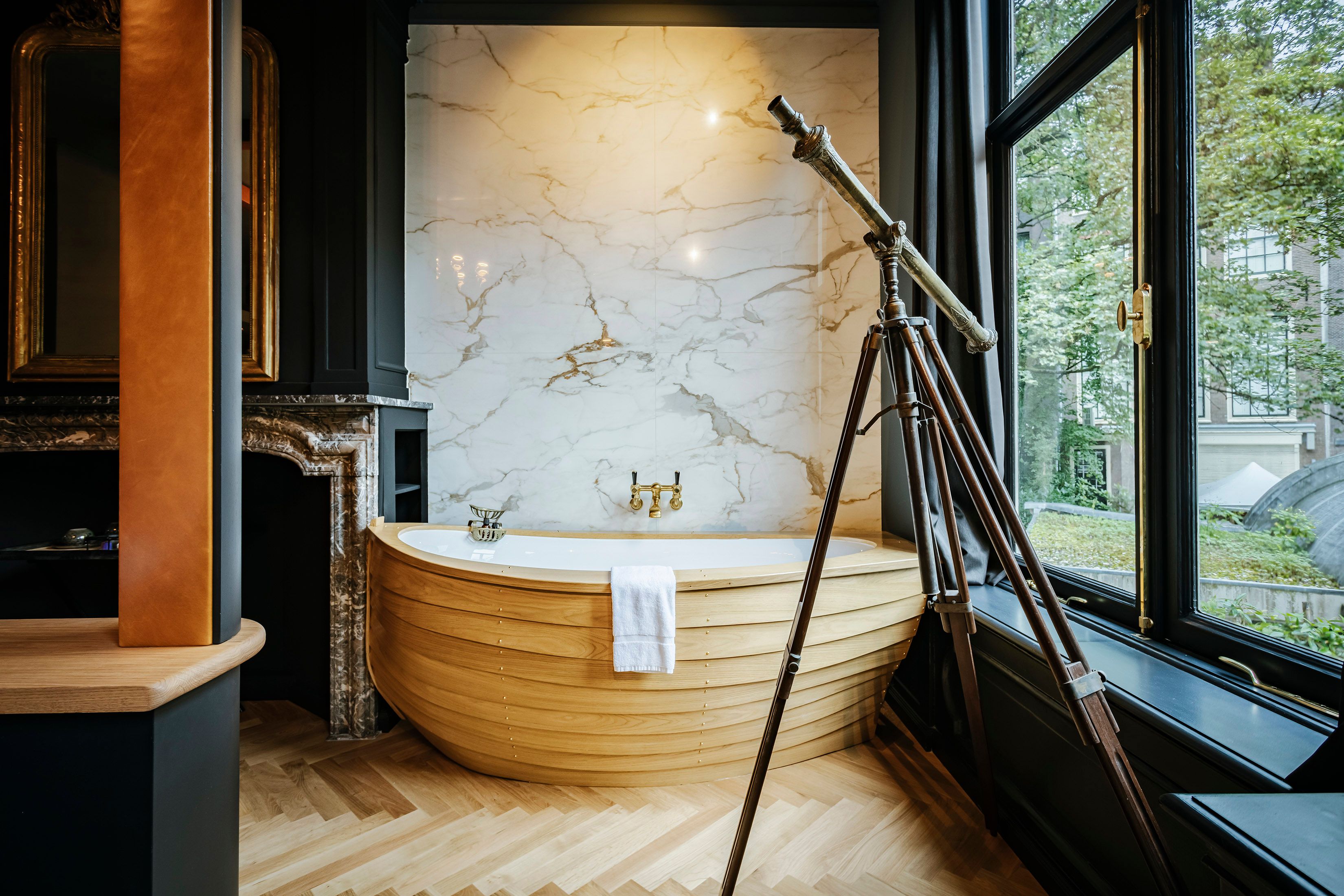 Stef van der Bijl is the designer and he's more of an artist. The design of the hotel is based on historical and wealthy people who lived in this building. When Napoleon was in Amsterdam he created house numbers - before that there were none - so we researched the whole street from beginning to the end, and we looked at all the people who lived here.
After researching the building, we realized that the prosperity of the Dutch people in the 17th century was reflected in the building and the area. we realised that this is a cool concept. We sough cool creators and innovators from the 1600s to 1700s and chose the name The Noblemen, with each room named after a different noblemen with a different story.
What inspires the food and drink choices?
The breakfast is a special experience in The Noblemen, and is something that differentiates us from other hotels. In the evening, we offer alcoholic beverages and small snacks to hotel guests. We decided not to go for a restaurant so guests can fully enjoy their room, and then go out to explore the wonderful restaurants of this city.
How are you approaching the issue of sustainability?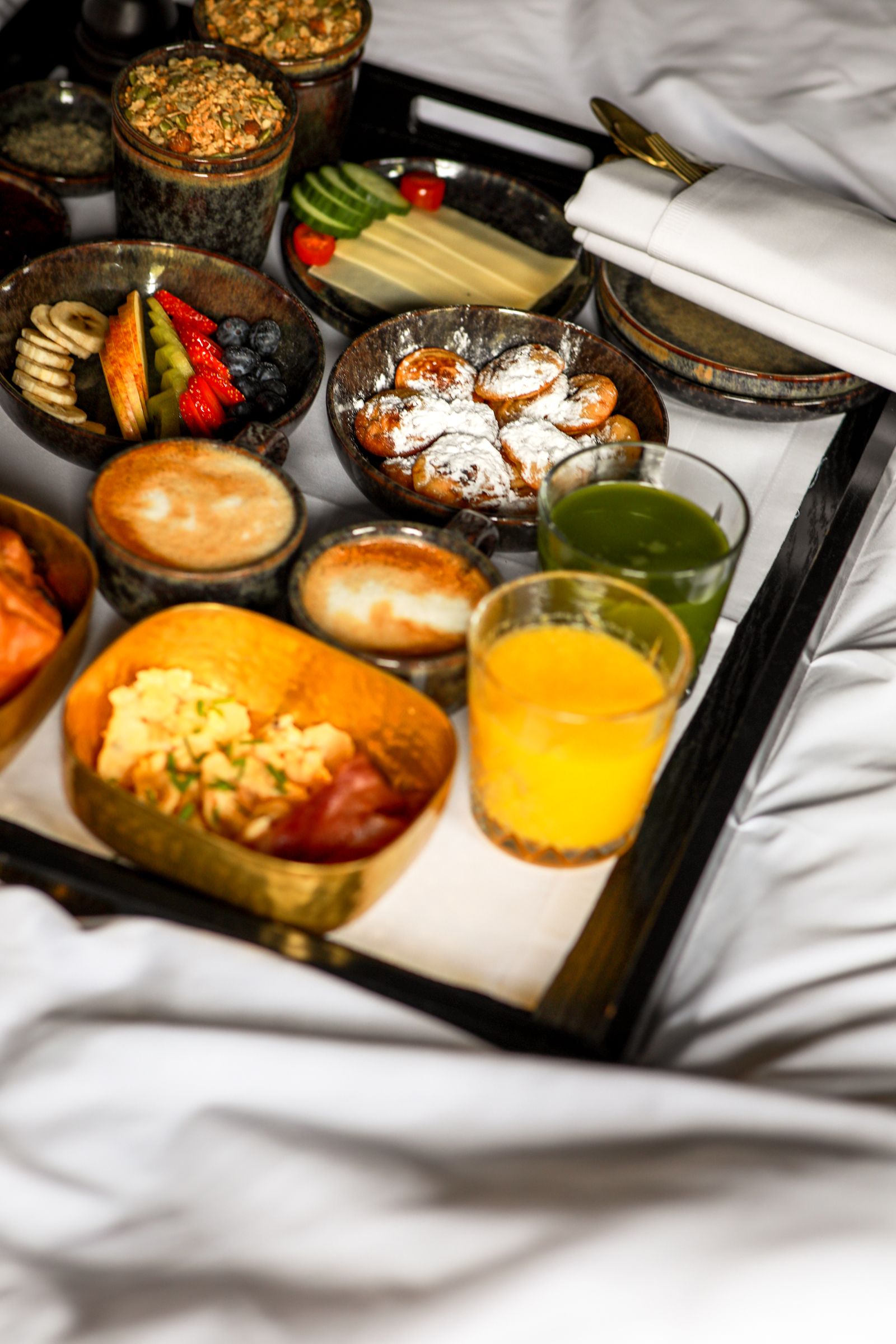 We try to do as much as we can. One thing we have introduced is triple glazing, which is a very sustainable part of the hotel. You cannot put in the new high-tech glass here because then the municipality says, 'this is a monument, you need to get rid of it'. You can even go to jail for three years if you do that.
We also have a special floor cooling system that is good for energy, but also for comfort. During the day, there are boosters that take the heat of the temperature away but because of the noise, we stop the boosters in the evening, and the floor cooling keeps the temperature on a good level throughout the night. Then in the morning, the boosters go on again. The benefit of using a heat pump system means we don't use gas and the guest experience is not compromised as the rooms are quiet to ensure all guests enjoy a good night sleep with no excessive noise.
We also always try to reduce paper and waste, but sometimes the sustainable alternatives are not always up to our standards e.g., re-useable spa slippers. We don't offer amenities such as toothbrushes in the rooms. Instead, we have a sign that asks guests to call us if they need anything and we'll bring any amenities they request to their room. This saves us money and helps us tackle waste. We are continuously looking for new ways to improve and find solutions to be more sustainable.
How important is hospitality tech to your business?
We actually do the opposite of a lot of hotels and try to hide all the technology that we use. We don't have phones in the room, we hide the televisions, we don't want everything to be automated. We value face-to-face connections, and we want to see our guests as much as we can, this really helps us enhance their experience. I like it when they ring the bell and ask us questions, as we can have a chat. It immediately creates a good connection with the guest and that's what we try to aim for.
What is your approach to recruitment and retention of staff?
Luckily, we have a cool concept with the hotel, so that brings in quite a lot of interest. We have never really had staff troubles here as it's quite a trendy, cool vibe in the hotel. We also give employees benefits, such as free night's stay and staff parties every few months. We also organise regular events with the team to bring everyone together to socialise outside of the hotel.
What do you think are some of the major opportunities and challenges in the hotel market this year?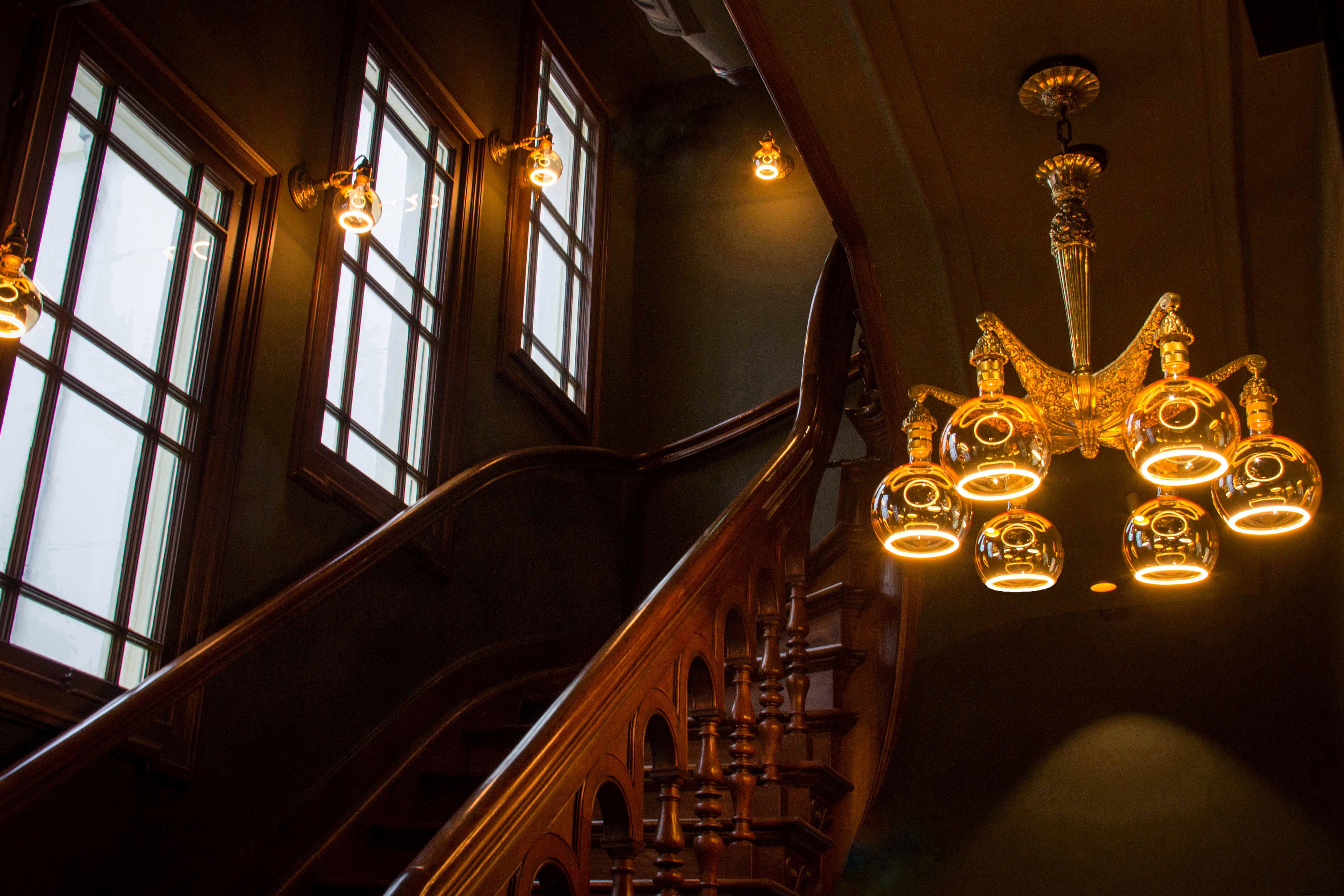 One challenge is that people still expect to get a refund on non-refundable bookings. For example, people are not careful and book non-refundable, and then they argue that a foreseeable difficulty isn't their problem. We have two policies, and expectations are a bit different, so that can sometimes be a bit of a challenge.
The connection with staff is another one we work on a lot e.g., staff parties, good benefits, salary level. The world has become a bit more expensive, so we may need to increase salaries. Our team must work out their lives financially, so we must think about that and help where possible.
Uncertainty towards Europe adds to the challenges too along with the war with Ukraine and Covid implications. Four years ago, we didn't have that. Amsterdam was always busy.
Is word of mouth what you rely on for bookings? How about Instagram and other channels?
I always continue to be very enthusiastic about the hotel and make it special for every guest, and that usually gets relayed through word of mouth which leads to new bookings. I wanted to be on every platform because nowadays everyone expects that. You cannot have a boutique design-led hotel without an Instagram page. And generally, if you book a hotel stay, you are likely to look it up on social media. You want to see the pictures that are not from the hotel. You want to see other people's reviews including any negative comments. Everyone has their own way of booking, and you just need to be everywhere, and Instagram is great because it's a way to showcase the hotel through amazing pictures.
What are you most interested to experience at the Independent Hotel Show?
What I really like about the Independent Hotel Show is that it brings together the community. In one place you can meet other general managers from Amsterdam and Europe, some of whom I know and some I don't, so it's great having that platform to connect with them. The IHA boat tour last year was great because I could enjoy a drink and chat with the general managers of other Amsterdam hotels. After meeting them there, we kept have kept in contact and have fun together. What I like most is that the show brings together the people that are working in the same industry, in order to network and learn from each other.
---
Find out more about Hotel The Noblemen here: hotelthenoblemen.com and to receive more insightful hotelier interviews and hotel focused content you can sign up to our newsletter here.