09 Mar 2022
The Story behind The Lobby and The Suite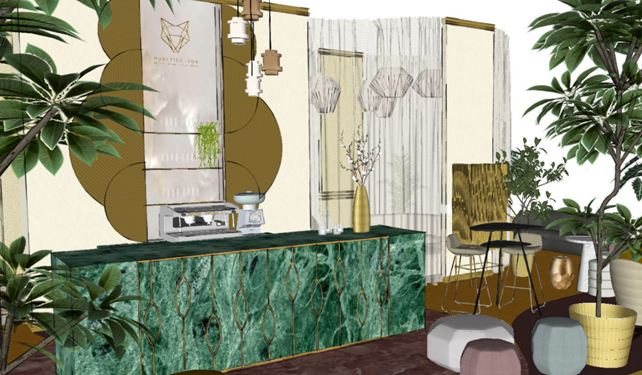 Meaningful design
'Embrace' is the theme of The Lobby and The Suite. How relevant today!! The need for people to embrace is tangible and it almost speaks for itself to emphasize this need in the Lobby that invites to sit, talk and get together. We're looking for adhesion in a fluid world. The need for physical and real experiences is increasing. Today, the appreciation for the authentic and the story behind every product is increasing. Hotel guests are looking for spaces that surprise them, that take them to a 'temporary' different world and yet
feel homy. Moreover, the importance of the interior which is made with love and chosen with personal attention. "Welcome to The Lobby and The Suite, a space where we have translated the wisdom of the past to form a deeper understanding of today's society".
Embrace
Together, The Suite and The Lobby are the center of the décor of the Independent Hotel Show. It functions as the living room for blooming creativity and gatherings. The design tells its own story about Embrace through undulating lines in the floor pattern, the organic shapes of the furniture, the cuddliness of the fabrics and curtains that embrace the sitting area like a cocoon. Silk lanterns give light to the space with a warm wink to the past. Extraordinary art pieces covering the interior walls of The Suite. 'From experience to meaning' and 'staying close to the authentic'. These are the basic elements that Roelfien uses for her designs. The interior design and a customized, personal hospitality concept all together create the ultimate guest experience. Attention to each detail connect the elements to the authentic and create an added value to the total guest experience. Spaces are meant to surprise, inspire and give comfort. Something everyone is looking for,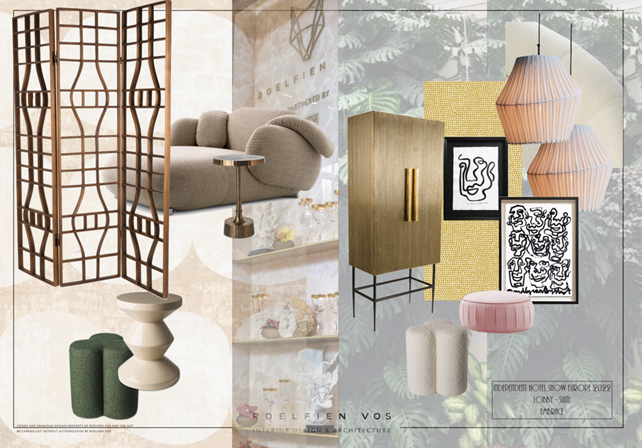 Design partners:
- Leolux
- Pols Potten
- Desso
- Solid Nature
- Arte Wallcovering
- Kvadrat
- Hollands Licht
- Steegaa
- Orac
- Timothy van Oorschot
You can visit Roelfien Vos and the fantastic partners at stand F18 on 16-17 Mar 2022!
---
About ROELFIEN VOS
ROELFIEN VOS Interior Design & Architecture is an international full-service interior design studio based in Amsterdam. With an extensive experience of more than 20 years in design, Roelfien Vos has cultivated a unique perspective of conceptual design providing clients the ultimate guest experience in hospitality. Her style is an eclectic mix of contemporary design, global finds and custom-designed creations with close attention to detail. The agency has worked on award-winning projects across the globe.