11 Mar 2022
The Story Behind The Innovation Stage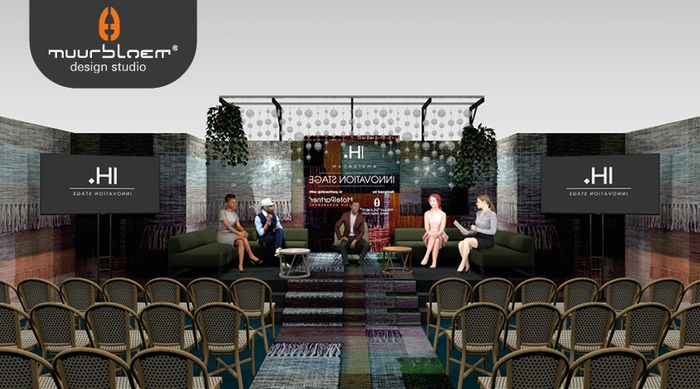 CREATING AN UNFORGETTABLE EXPERIENCE
As key design partner of the 2022 edition of the Independent Hotel Show Amsterdam, Muurbloem design studio was invited to provide the design for a bustling Innovation Stage. Our challenge was to create an unforgettable hospitality experience that embodies the spirit of innovation, while also considering the shifting restrictions with regards to social distancing and public hygiene.
Being a creative design studio for hospitality, we not only execute characteristic hotel interiors with the distinctive Muurbloem-touch, but we also design and produce unique collections of interior products for business and hospitality. More than any other type of business, hospitality is grappling with the question of how to offer a welcome experience in a post-pandemic world, with its increased focus on sterility compromising the senses of touch, taste, and smell.
Like a sign of the times, right before the pandemic, we were inspired to design the extra-ordinary BOBIJN print-collection for carpet, wallpaper and curtains. Inspired by the craft of handweaving, BOBIJN is a collection of textures that increases the welcoming capabilities of any space. During our design process we were reminded of the words of the noted Finnish architect Juhani Pallassmaa:
"Vision reveals what the touch already knows."
This means that our eyes collaborate with the other senses. When we see marble, we know it is hard and cold because we've touched marble before. When we see a tomato, our mouth fills with water because we know it to be sweet and juicy. Through our eyes we can touch and taste the world, and if we are able to create an interior that consistently stimulates the senses, we can inspire an incredible sense of hospitality!
WEAVING THE FABRIC OF HOSPITALITY
Our design for the Innovation Stage weaves the narrative thread of welcoming warmth and softness into the literal fabric of hospitality. The word 'fabric' is our key to great hospitality, referring to (1) cloth, as well as (2) the walls, floor, and roof of a building, but also (3) the basic structure of culture and society. This colourful design from the BOBIJN collection proves a perfect background for a dazzling event space, which consistently carries the experience of handicraft and fabric into the seating, with its interlaced rotan strands as well as in the lighting decorative glass strands of the custom-designed Dot Show chandelier hanging over our esteemed speaker-guests.
All-in-all an inspiring environment that offers the right balance between stimulation and comfort, perfect for taking part in engaging conversations about the innovations that will move the business of hospitality forward!
---
About Muurbloem design studio (Stand J28)
An award-winning creative agency with 20 years of experience in design and turn-key projects for hotels and hospitality. With many of its members having previous experience in hospitality, the design team creates unique concepts and vibrant interiors with custom-printed furnishings and custom made lighting. Muurbloem design studio is key design partner of the Independent Hotel Show and proudly champions the (inter)national hospitality industry in these trying times.
---
Our design partners:
- De Ploeg
- EGE Carpets
- Rolf Benz