BOTTEGA STARDUST PROSECCO DOC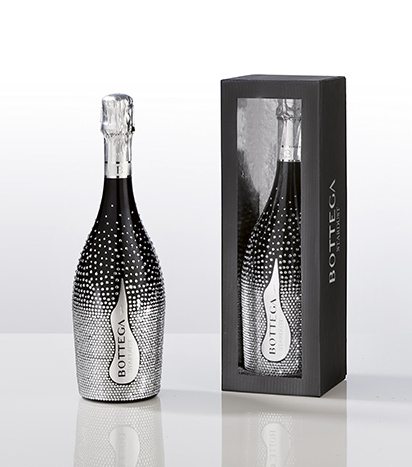 Bottega Stardust is a Prosecco DOC, obtained by the vinification of Glera grapes, grown on the Treviso hills. It is a product of immediate visual impact, as the green glass of the traditional bottle is entirely covered by a galaxy of crystals. The effect "stardust" makes especially shining the moment of the aperitif and of the toast. The front of the bottle is free from crystals and reproduces by subtracting the sinuous Bottega logo that marks all bubbles of the company. The packaging is completed by an elegant cardboard box.
Good as aperitif, it goes particularly well with refined dishes of poultry, shellfish (excellent with lobster), sushi and raw fish, pastries and dessert in general.