04 Mar 2020
INTERVIEW WITH JOACHIM DE LOOIJ, BUNK HOTELS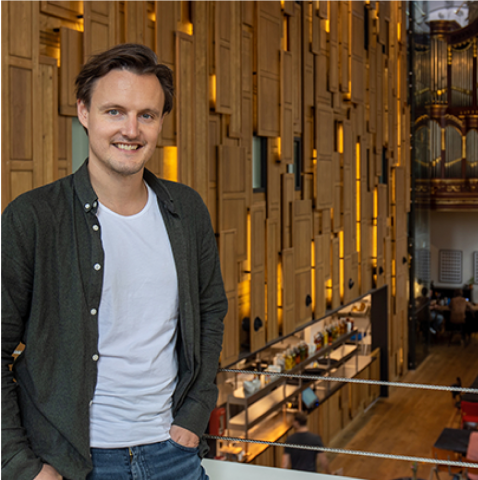 INTERVIEW WITH JOACHIM DE LOOIJ, MANAGING DIRECTOR OF BUNK HOTELS ON ITS DEVELOPMENT OF TWO HISTORIC CHURCHES.
"Churches have always been places of reflection, encounters, and of bringing communities together. We want to achieve those same things with BUNK."
INDEPENDENT HOTEL SHOW AMSTERDAM
Joachim de Looij will be speaking on the Innovation Stage, powered by HotelPartner Yield Management, designed by Edward van Vliet, on Tuesday 17 March at the Independent Hotel Show at RAI Amsterdam. In a panel discussion, he will be sharing his experiences brought about by the inspiring process of re-purposing heritage locations into enriched hospitality environments.
'BUNK is about connecting neighbourhood and hotel guests while also making comfort and luxury available to everyone.'

After a speedy ferry crossing over the IJ and a walk through the Van der Pek neighbourhood, we arrive in Amsterdam-Noord. Joachim de Looij, Managing Director of BUNK Hotels, takes us straight to the enchanting heart of the church. 'Enthralling and connecting' - that is what BUNK is all about. We can sense it immediately. BUNK's new communal house is positively radiating in the midday sun. Robust and inviting. We are guests at the former Sint-Rita Church that has the Sint-Rosa Convent as its base.
We have to pick our way between the bustle of painters, the contractor and builders to step over the threshold and marvel at the unique power of this monument. But it's easy to imagine how special it will be for guests who will soon be sleeping in the nave of this former house of God. Tough materials like wood, steel and marble are interwoven with colourful art, warm carpets, caressably soft bed linens and luxury shower products. It's precisely these kinds of contrasts that mix the still-visible, historic wooden roof construction and the modern "floating" bedsteads in the atrium; elements that position BUNK between a hotel and a hostel. "Our starting point is making comfort and luxury available to everyone," says Joachim.
Joachim tells us about the building's rich history as a heritage property. "The church was built in 1921 and means a lot to the neighbourhood. It was a church for a long time, then it became a library and head office for Universal and since February it has had new stewards. Sint-Rita was inaugurated as BUNK Hotel Amsterdam."
WHO WOULD COME UP WITH THE IDEA OF TRANSFORMING EMPTY CHURCHES INTO HOTELS?
It is possibly not the most obvious thing to do, but Robin Hagedoorn thought otherwise. Joachim: "He is the creative brain behind BUNK. He got the inspiration while in Black Rock Desert in Nevada, during the 'Burning Man' festival. His thoughts about reinventing hospitality were sparked there."
"A number of principles are extremely tangible during the annual festival. It is a world without time and its "radical self expression" means that you are not judged by others, no matter what your age or background. The impact of art and music is everywhere, as well as the "the art of gifting", which is about sharing with others without expectation. At BUNK these ideas are translated into, for example, all employees being recognisable by their behaviour rather than by a uniform. The "donation bag" in the room is not a laundry bag, but a sack for guests to leave unwanted clothing in. Donations will be (cleaned and ironed) by BUNK and given to, for example, the Salvation Army (located in the former Sint-Rosa convent)."
Cultural programming is another value which BUNK sets itself apart. At the moment, the finishing touches are being put on a recording studio in the church, from which location radio programmes will be made. We got a sneak peak at the artist-in-residence room which will be made available as temporary accommodation for artists and performers. It's another striking example of the art of gifting.
"We would like people to experience our building as a place where there is always something to do."
"Churches have always been places of reflection, encounters, and of bringing communities together. We want to achieve those same things with BUNK', says Joachim. "There are also a lot of flexible workspaces that freelancers can make use of, free of charge. Our restaurant is open to everyone and always offers an economically priced daily special, and our coffee is the cheapest in the city. In addition, a portion of our profit goes into a fund, from which we organise free activities or bring special ideas to life. In Amsterdam, we will be constructing a monument commemorating the bombing of Amsterdam-Noord in July 1943, which was responsible for the sad loss of people from this neighbourhood and damage to the building. The monument will be a tribute to those people."
NEIGHBOURHOOD AND BUNK GUESTS WILL COME TOGETHER IN THE CHURCH... BUT WHAT ABOUT THE CHALLENGES THAT EMERGED FROM THE DESIGN PROCESS FOR CONVERTING A CHURCH INTO A HOSPITALITY ENVIRONMENT?
Joachim says: "The complexity of coming up with spatial, but mainly engineering solutions within heritage landmark specifications, was a challenge. In Utrecht, we also had a historic organ to consider, and the entire design was coordinated with the Utrecht Prosperity and Heritage Commission (CWM). It got fairly extreme in some areas. For example, we were not allowed to change the tone of the wooden flooring and ceilings due to the organ being chestnut brown. And during construction, the organ was completely sealed off, air-conditioned and placed under pressure in order to keep the dust out.'
YOU TWO WILL BE ON STAGE AT THE INDEPENDENT HOTEL SHOW TO INSPIRE OTHER INDEPENDENT HOTELIERS WITH BUNK'S STORY. WHAT WILL YOUR AUDIENCE LEARN ABOUT THE TRANSFORMATION PROCESS THAT YOU WENT THROUGH WITH THE HERITAGE CHURCHES IN AMSTERDAM AND UTRECHT?
"Loads! But it's difficult to explain in just a few sentences", says Joachim. "Mostly, it's about knowing your business well, perseverance, vision and passion - key factors for achieving this kind of transformation. And it's about staying focused on your objective. Why am I doing what I'm doing, and for whom?"
WHAT ARE BUNK'S PLANS FOR GROWTH? NOW THAT UTRECHT AND AMSTERDAM ARE OPEN, WE ARE INTERESTED IN FINDING OUT ABOUT JOACHIM AND ROBIN'S AMBITIONS FOR GROWING THEIR BUSINESS. 'WHAT ARE THE PLANS FOR THE FUTURE?', WE ASK JOACHIM.
"Our ambition is to see BUNK grow at home and abroad. In the coming years, many more churches will become available, so there is enough potential in that regard. We like giving a church a new future, but a convent, prison or for example, a factory also fits into the BUNK philosophy. Top of the list are heritage buildings that we can add BUNK's modern character to."
This is BUNK's second location, following Utrecht (Westerkerk), to complete their 'twin'; two heritage churches that have been transformed into a communal house for people from near and far.
Authors:
SEVERS+JANSEN, The Hospitality Studio
Mark Severs and Kim Jansen
24 February 2020
seversjansen.com