09 May 2019
NIEUWE TRENDS ONTHULD OP THE INDEPENDENT HOTEL SHOW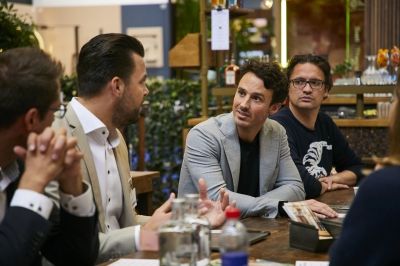 MEER DAN 1200 PROFESSIONALS BEZOEKEN EERSTE DAG NIEUWE HOTELBEURS IN DE RAI
Amsterdam, 8 mei 2019 – De organisatie van de eerste editie van The Independent Hotel Show in Amsterdam kijkt terug op een zeer geslaagde eerste beursdag. Meer dan 1200 bezoekers uit de hospitality sector wisten de weg naar de RAI te vinden om zich te laten inspireren en informeren over dé trends van het moment op hotelgebied. Tijdens de show, die ook morgen nog plaatsvindt, zijn 120 exposanten uit de wereld van onder andere design & decor, techniek, bedden, marketing en food aanwezig. The Independent Hotel Show is ook morgen (donderdag 9 mei) nog te bezoeken van 10:00 tot 18:00 uur.
Highlights eerste dag
Op de Hotel Vision Stage, het hoofdpodium van de show, vonden vijf inspirerende sessies plaats waarin hoteliers, GM's en trendwatchers aan het woord kwamen over de toekomst van de hotelbusiness. Tijdens de eerste sessie'The year in review' bespraken o.a. Eric Toren (Hotel TwentySeven, Amsterdam) en Gabriella Esselbrugge(Hotel De Dames van Jonge, Giethoorn) in een paneldiscussie de noodzaak om toeristen die naar Amsterdam komen, te verspreiden over het hele land. Iets waar René van Schie, die voor de Metropoolregio Amsterdam werkt aan toerismeontwikkelig, zich op dagelijkse basis mee bezighoudt.
Trendwatcher Holly Friend van The Future Laboratory gaf bezoekers in 'The travel future forecast' een inkijkje in enkele micro-trends wereldwijd:
Hedendaagse versie van luxe: More is More gaat niet meer op; Het is nu Less but Better! Gasten zoeken kwaliteit en willen minder afval produceren. Een voorbeeld: het aanbieden van schoonheidsproducten in bulk dispensers, maar dan wel alleen topmerken van de allerbeste kwaliteit.
Meer aandacht voor het welzijn van de gast. Denk aan het aanbieden van meditatiesessies, invisible roomservice of een heuse hotelbibliotheek waaruit de gast zijn favoriete boek kan bestellen en dit 's avonds naast het nachtkastje vindt.
Technonology is key! Denk aan een robot die je incheckt, je informatie over de stad/regio kan geven en 's ochtends ook nog een eitje voor je bakt
In de 'Let's get personal' sessie gingen Joost van Beek (The Student Hotel), Erik-Jan Ginjaar (Postillion Hotels) en Jorn Heikens (Student Stenden Hotel Management School) onder leiding van Charles van Gogh (Mise en Place) in gesprek over o.a. het aantrekken van goed personeel.
Reviewsites waar werkgevers worden beoordeeld, worden steeds belangrijker.
Ook spelen Tinder-achtige apps waar werkgevers en werknemers elkaar kunnen ontmoeten, een grote rol.
We zien steeds meer gebruik van Instagram voor professionele doeleinden, o.a. bij het antecedentenonderzoek voor managementposities, maar ook bij twijfelachtige ziekmeldingen.
De dag werd onder het genot van een drankje afgesloten met een netwerkborrel in the Social Business Space.