03 Mar 2019
THE STORY BEHIND THE 2019 LOBBY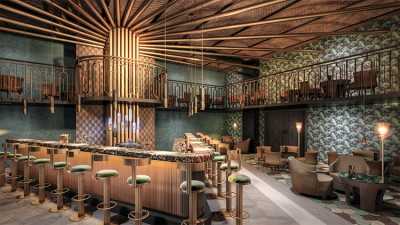 CURVY SHAPES, BOLD COLOURS AND LUXURIOUS TEXTURES…
.... the combination of these design elements creates the experience and style of The Lobby, which Roelfien Vos has specially designed for the Independent Hotel Show Amsterdam to allow guests a space to network, get refreshments and host meetings.
Her design concept for this is inspired by the roaring twenties. A period in the 1920s where culture, music, travelling and dining roared after years of depression and war. Popular style movements such as Art Deco and Art Nouveau had an impact on decorative and applied arts, architecture, industrial, graphic and interior design, as well as visual art and fashion.
"My story for The Lobby shows a sophisticated environment that evokes emotion and warmth. 100 Years after the1920's, leisure has become more accessible and gained an important factor in peoples' daily lives. More importantly; people are looking for that memorable experience in hospitality." - Roelfien Vos
Showcasing diverse materials, unique textures and a provocative colour scheme, The Lobby invites guests to take a moment to unwind and enjoy the welcoming atmosphere.
With one step into The Lobby, the dark wooden fish scale pattern and the bright green marble bar will make it clear you're entering into a world of tailor-made interiors. You can take a seat in this relaxing, colourful world, surrounded by velvet and leather, and enjoy the quality of today's modern craftsmanship with luxurious comfort and attention to detail.
'The Suite' is the VIP area centred in The Lobby hosting private events and individual talks. An exclusive area for VIP hoteliers, speakers, partners and their gusts, we advise that they take time to feel the soft pink velvet wall covering dressed with a unique contemporary art exhibition.
It is Roelfien's philosophy that guests perceive the ultimate beauty and balance by experiencing three interior components. In the Lobby, a composition of shapes, textures and colours are the components that provide dynamic variety. These elements stand out the most by complementing and contrasting each other.
Roelfien Vos is proud of her partners highlights at The Lobby:
The wooden floor will be laid in a fish scale structure; a unique piece of craftsmanship from 'BUILDINGS VLOEREN'.
WITTMANN is premiering their Vuelta furniture collection from the 2019 Salone del Mobile in Milan.
The walls will be covered with an Art Nouveau wallpaper by 'ArtWall Collection' complimenting the velvet Wallpaper by 'DUTCH WALLTEXTILE COMPANY'.
The new collection, Stellar Floor lamp, by 'PULPO' gives an extra touch to the colourful walls.
The Suite in the centre of the Lobby features the contemporary art exhibition Haute Couture Designs by 'HILLYWOOD ART'.
Inspiring lifestyle books from MENDO to make you want to stay at The Lobby.
Experience Roelfien's installation for yourself; The Lobby will be open to explore and purchase food from from 10.00 - 18.00 both days of the show.