01 May 2019
A GREEN COFFEE SOLUTION? YESPLEASE!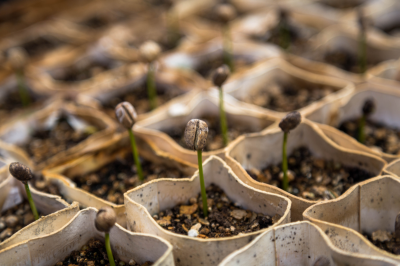 A CIRCULAR COFFEE CONCEPT FOR HOTELSAHEAD OF INDEPENDENT HOTEL SHOW AMSTERDAM, WE CAUGHT UP WITH YESPLEASE! TO DISCUSS HOW THEIR NEW IDEA OFFERS HOTELIERS THE ULTIMATE IN-ROOM CIRCULAR COFFEE CONCEPT.
"Modern hotel guests expect a complete experience from you. When spending their money in your establishment, they want to see, feel, smell and taste nothing less than pure quality and good coffee is an essential part of that - really you can no longer get away with instant coffee.
Customers want visible, tangible luxury and espresso machines with premium coffee are ideal for this: quick, clean and easy."
But with plastic straws banned and a backlash against disposable cups, catering to an influx of coffee-loving guests whilst staying sustainable can often be a problem. YesPlease has found the perfect solution for this: fully circular coffee cups.
The used cups will be collected – with some support from Bunzl who are responsible for the logistics process. The coffee grounds are separated from the cups and both the grounds and the cups are reused in different ways. The used coffee cups into trays and holders to put them in, as well as room cards for hotels and other hotel products.
From Sip, to Soap!
YesPlease currently has three espresso blends, the 275, 262 and the 258 decaf, created using 100% Arabica beans which mean their coffee grounds can also be recycled and, as it turns out, they make an excellent material for soap!
The hard grains work as an exfoliating scrub to make skin feel soft, smooth and clean and the coffee grounds also have a neutralizing effect, eliminating bad smells. Hospitality recycling programme, Clean the World, collects these soaps and redistributes them for developing countries.
Tasty, innovative, sustainable and fair!
In addition to a recycling strategy and a fair price for their farmers, YesPlease is the first coffee company that contributes to the circular economy with its subscription model too:
"We provide the hotels a free machine for the duration of their subscription and ensure that your espresso machine always works. If they – and we cannot imagine it! - stop the monthly subscription, we will take the machine back. The machine is cleaned and overhauled and placed with a new YesPlease coffee lover, so there is no hope of unused espresso machines".
YesPlease offers the best quality in coffee, beautiful machines and a great story - and that's why we're proud to have them as part of the Independent Hotel Show 2019 as our Official Coffee Partner. Visit The Concept Lab to discover it for yourself, alongside a curated collection of progressive, independent brands offering interesting solutions for your hotel.