07 Aug 2020
INTERVIEW WITH KAROLY CSERFALVI, CITIZENM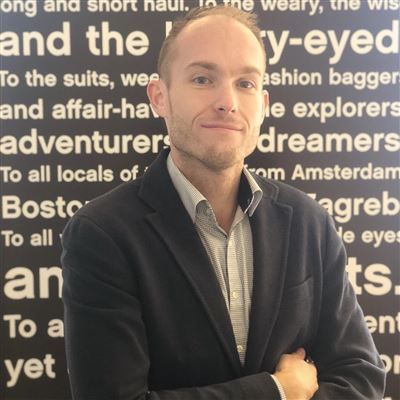 As part of this months 'Spotlight on...Tech' series we caught up with Karoly Cserfalvi, Tech Partner at citizenM hotel group, to gain an insight into what tech citizenM use to enhance their guest experience, what updates the team are making to ensure their guests get the most out of their experience. Plus, we discuss the inspiring innovations he thinks have come out of lockdown.
1. Please could you introduce yourself to our readers and give a little insight into your role at citizenM
My name is Karoly Cserfalvi, and I have been working for citizenM for almost two years now. I am originally from Hungary and came to the Netherlands when I did my MBA here in Amsterdam. I found citizenM right after I finished my studies and I fell in love with the company's affordable luxury concept and the smart thinking behind what they are doing. citizenM is historically a tech-forward company, a great community and a brand that is not afraid to do things differently. My current position is​ tech partner​.
In this role I am the first point of contact for all technology needs of a selected number of business units. These are hotel operations, brand, and marketing, commercial, HR and Learning and development. I am responsible for working with business partners on prioritizing their technology needs, connecting them with potential vendors, scoping out their requests and working with other parts of the tech team to get a solution created and implemented.
2. What existing technology in citizenM hotels made re-opening for the 'new normal' and meeting customer expectations easier?
There are a couple of elements that made it easier for us to be ready for the re-opening. However, the core of it is that​ we were designed to be ready before covid19 even happened. We have no front desk where you have to wait in a line, our teams are ultra-effective and lean, and we already had iPads in all rooms to control blinds, curtains, lights and tv before the pandemic hit. Not only that - As an owner and operator of its entire hotel portfolio, ​citizenM has the complete freedom to execute new initiatives consistently, rapidly, and globally. Additionally, we have one room type in all our hotels, again enabling us to change fast and maintain standards across our global chain. The changes we made during the pandemic were built on this strong foundation. We are introducing ​opt-in housekeeping​, allowing our guests to choose if and when they want their room to be cleaned. Unless guests choose to have their room cleaned, no one will enter it. Our ​free mobile app has also seen some significant new functionalities added. From now on guests can scan their passports or ID cards which, combined with our check-in flow included in the app enables them to have a contactless check-in experience.
We are building capabilities to allow f&b orders to come in through our mobile app and will make our breakfast experience more seamless with less crowds in our living room space – all backed by some fantastic technology solutions. Besides technology, we have of course taken ​additional safety and hygiene measures​: every hotel has strategically placed disinfectant stations for guests and employees; we are sanitizing all in-room iPads after each stay; social distancing signs and safety routes are clearly set out, and electrostatic sprayers are also ready to sanitise luggage, public areas and guestrooms after check-out. Furthermore, all of citizenM's laundry partners guarantee to deliver disinfected clean linen.
Add our fantastic hotel teams to the mix and you have a truly welcoming, safe and contactless hotel, where the guest is in full control of the whole stay.
3. Did any technology suppliers or partners go above and beyond to assist the business in the wake of Covid19?
A hotel chain's tech landscape is always quite complex as literally no hotel companies have in-house development of the software they use. Hence, we all rely on external companies. However, there is a major difference between a supplier and a partner. Suppliers supply you with what you need – nothing more - and hopefully - nothing less. Partners, however, think with you, walk with you, and breathe with you. Times like these show the difference and the added value of having partners instead of suppliers.
As citizenM, we have a wide network of partners who were ready to ease the pain we experienced during these unprecedented times. From giving discounts to speeding up key developments and working together with us tirelessly to solve unforeseen challenges, our partners demonstrated strong commitment and added tremendous value to citizenM. Partnership, however, is a two-way street, where everyone is a winner. Once we reap the rewards of such developments, we truly honor our partners and celebrate success with them.
4. As one of the Tech leads at the group, what inspiring innovations in hospitality technology have you been most impressed by since March?
For an industry that is in the business of selling perishable goods, a pandemic like covid19 is the worst nightmare. The rooms not sold today cannot be compensated tomorrow. In this instance, it is not a short-term, temporary drop in demand where you can slowly recover through higher rates, but an elongated crisis with a lot of uncertainty. However, these circumstances boost innovation in its purest sense – people need to start thinking differently and solve problems that may have otherwise been swept under the rug. Most hotels were happy to have a check-in desk, avoided investing in a smartphone app and thought the keycards are the only way to open a door, just because they have been doing the same thing for decades and nobody complained.
Now, there is an explicit demand for things to change. I am happy to see conversations emerging around re-thinking the whole model of operating hotels. citizenM went through this exercise right when it was founded – our core team looked at what is essential for the guests, what really creates value and what is only legacy of the industry. I see that hoteliers are now forced to go through the same thinking process which leads to what some refer to as hospitality 2.0. This new concept will rely on new technologies a lot more than the traditional hotel industry. From a technology standpoint, ​contactless is the new buzzword.
Limiting the number of physical touchpoints through technology is the main topic on any tech expert's agenda these days. C​ontactless check-in, keyless room opening, digital menus, mobile payment integrated in the guest flow and controlling the room from your own smartphone are some of the most common projects that hotels are exploring - just like us. The tricky bit here is making the guest experience ​seamless ​ – from a tech standpoint it means integrations are essential. Technology helps by connecting the standalone solutions available on the market into an architecture where the right data flows securely and quickly across platforms, so that our hotel teams' (we call them ambassadors) and our guests' experience is frictionless. I am proud to say that at citizenM we not only found the right solutions through our network of great partners, but through the mobile app and our we are incorporating all of this into one great platform that enhances the guest experience massively.
5. The new citizenM App is incredibly innovative, how are guests reacting to the completely contactless experience and the additional features of app?
Everybody needs to understand that a smartphone app is a living thing, which will always need to be tweaked and developed. The app currently has a 4.7 rating in the app store which is a very good score for such an early version. From the first moment we started thinking about the app we knew it was going to be more than just another booking tool and marketing platform. Yes, you can book your next stay via the app, however, the biggest value added is the fact that it allows our guests to control all aspects of their stay from their own device.
Our app includes a booking engine allowing citizens to book their next stay with us and to modify the services they want from their own device. Our room selection is also quite a success – this ​enables guests to choose a room fitting their preference as part of the completely contactless check-in procedure. Instead of key cards which are easy to forget, guests can​open the rooms with their phones that are always with them, meaning less stress around leaving your card in your room – a common mistake that all of us make. Guests love the in-room controls, which allow them to modify the lights (and play with various coloured mood lighting) and control the blinds and the curtains in their room from their own device. You also don't have to worry about your in-house costs as you can keep track of them in the app, as well as ​paying directly through the app​. Finally, check-out is also easy to execute from the app and can be done in 10 seconds or less. All of these features are true guest favourites as they allow you to control your stay from the moment you booked, up until you leave our hotel and start thinking about returning.
We are committed to adding new functionalities to the app. Our internal teams, together with our development partner keep monitoring the usage and feedback received on the app. These are then taken as valuable input in the decision-making process of adding new functionalities to the app - at the end of the day, everything we do at citizenM is done to enhance the guest experience.
For more support and advice surrounding hospitality tech, visit our 'Spotlight on... Tech' page.