12 Oct 2020
INTERVIEW WITH ROBBERT-JAN PAYMANS, GROHE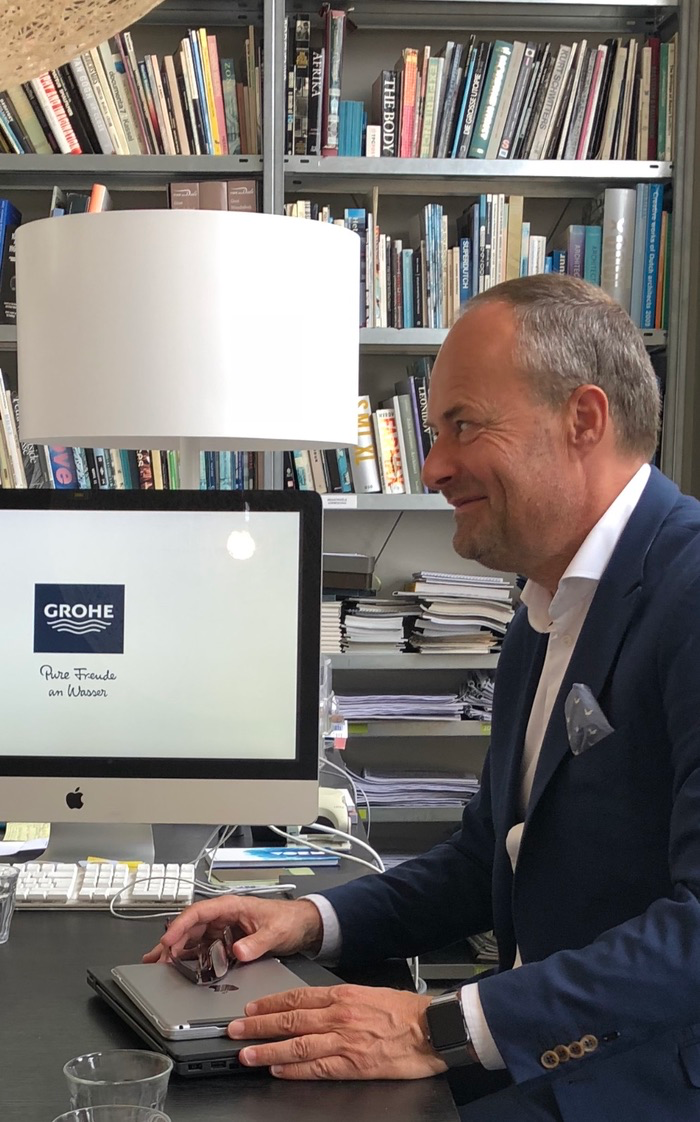 As part of our 'Spotlight on...Sustainability' series, we interviewed Robbert-Jan Paymans, Manager of the Hotels, Leisure and Architects Division at GROHE, to discuss how they provide hoteliers with the best bathroom and kitchen solutions, whilst integrating sustainability into the business.
1. Hi Robbert-Jan! Thanks for joining us. Could you please introduce yourself and give a little insight into your background and experience?
My name is Robbert-Jan Paymans and I have been working for GROHE for almost 11 years where I am responsible for all customers focused on Hospitality, Architects & Designers. Throughout my career, I have been working in the sanitary industry in various segments. In the last few years, I have been in the Architects and Hotel industry, learning what today's hotel guest is looking for in their bathroom. With this knowledge and our portfolio, we can fulfil this perfectly.
2. Please can you tell us about GROHE?
GROHE is a leading global brand for full bathroom solutions, kitchen systems as well as being the number 1 in water security. In the past years, we have evolved from a mere hardware manufacturer into a driving force of digital transformation within the sanitary industry. As the leader in water technology, it is our goal to continue innovating and defining how water is used and experienced by our customers. We want to provide our customers, a sustainable, joyful water experience that exceeds their expectations and in the end offer 'Pure Freude an Wasser', which is our slogan.
3. How did GROHE diversify itself in the past few months in the wake of Covid19?
We have experienced an increasing demand for hygienic solutions these past few months. Especially in areas such as public restrooms, GROHE's assortment of touchless products has already helped many customers upgrade their hygienic standards. For many years GROHE has catered to the needs for hygienic product solutions in the healthcare, hospitality, and commercial sectors. For that reason, we enjoy a large selection of infrared touch-free products for basins, WCs', and urinals. The only difference now is that due to the Covid-19 pandemic we all must rethink our hygiene practices and consider new ways of protecting ourselves and those around us, in both home and public settings. By using touchless faucets, we not only reduce water consumption by up to 70% but also help prevent the risk of spreading germs and cross-contamination. Recent events may have made everyone more aware of the importance of hand hygiene, but the benefits of touchless taps have been at the heart of GROHE's product range for many years.
4. We are focusing on sustainability this month, tell us a bit about GROHE's sustainability credentials?
Striving for the highest levels of sustainability is an integral and essential part of GROHE's DNA and, in addition to quality, technology, and design, which combined are our core values. We have integrated a 360-degree sustainability approach that not only involves the activities of employees, suppliers, customers, but also processes, products, and social responsibility. As part of the LIXIL Group, GROHE's vision for sustainable living focusses on certain strategic pillars or development goals. As an example, by 2025 we want to have improved the livelihood of 100 million people through sanitation and hygiene initiatives. We also strive to achieve net-zero carbon emissions from housing and lifestyle solutions as well as operations and become a leading manufacturer based on a model that preserves water and natural resources for future generations. With our GROHE EcoJoy and GROHE SilkMove ES product features, we are already making an environmental contribution and reducing our footprint.
5. You have a lot of sustainability initiatives; can you tell us about some of these?
One of the biggest and ground-breaking projects within GROHE and as part of the LIXIL Group; is the partnership with UNICEF called 'Make a Splash!' or 'Toilets for All'. Together we contribute to the target of the United Nations sustainable development goal to improve access to basic sanitation for 100 million people around the world by 2025. For that reason, LIXIL developed the first product in the SATO series with funding from the Bill and Melinda Gates Foundation. SATO toilets are affordable and easy-to-install toilet systems and an automatically closing trap door that blocks odours and insects. Today, more than 3 million toilet pans are in use in countries around the world, effectively improving sanitation for more than 15 million people. To be part of this project makes us incredibly proud as a company but also as an employee working for GROHE and LIXIL.
6. Thank you so much Robbert-Jan! If anyone in the industry wants to get in touch, what is the best way to reach you and the team at GROHE?
If you are interested in using our products or you're simply looking for information and personal advice, please contact me via robbertjan.paymans@grohe.com or call me at +31 (0)6 511 06 353. Also, I'm always willing to plan a visit and bring some delicious Dutch cookies or a well-timed gift!