04 Mar 2020
THE CONCEPT LAB: 3 QUESTIONS FOR PARTICIPANTS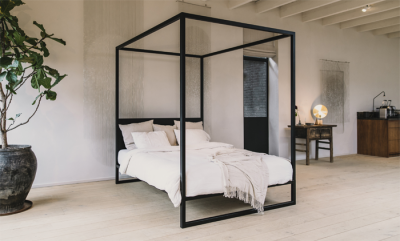 THE CONCEPT LAB ON THE FUTURE OF HOSPITALITY - 3 QUESTIONS FOR PARTICIPANTS
Innovation and controversial ideas will be presented in The Concept Lab. At this stand at the Independent Hotel Show Amsterdam - designed by Robuust Amsterdam, you will find a carefully selected collection of visionary products and services which are pioneering in the hotel sector. The stylish stand design will get you thinking, while the range of advanced solutions - with impacts for the future of hospitality - promise to create unforgettable guest experiences in your hotel.
We sent our community partner and ambassador SEVERS+JANSEN, The Hospitality Studio, for a preview of what the innovative participants at The Concept Lab have in store for visitors.
Daphne Beers from Your-Q.com, Rutger van Beek from Bagpoint, Nikusia Kooijmans from YachtCloud, Mell Bax from EcoFella, Patrick Lomsdaler from Flexipass, Rod Hensen from Soulpicks, Julien van Hassel from Ignore Amsterdam, Grace Plummer from Grace April and Franziska Altenrath from TUTAKA all answer questions below about why they do what they do, how their product or service will make a difference to the future of hospitality and which USPs about their product/service you'll remember after talking to them at The Concept Lab.
WHY DOES YOUR COMPANY EXIST, AND WHY DO YOU DO WHAT YOU DO?
YOUR-Q.COM
- DAPHNE BEERS
We want to contribute to the training and kindling the enthusiasm of a new generation of hospitality heros, and we want to be the bonding factor between talent and employers, in order to make a positive contribution to quality in hospitality.
BAGPOINT - RUTGER VAN BEEK
Bagpoint solves the problem carrying luggage for travellers. Bagpoint can check baggage in at the hotel and come to pick it up afterwards. Once you arrive at the airport standing in a queue at bag check-in will no longer be necessary.
YACHTCLOUD - NIKUSIA KOOIJMANS
GEST by YachtCloud gives the guest experience an enormous boost by providing personalised service. It is een stylish, modern, personalised and extremely innovative way of combining automation and service. Guests can control lighting, activate the DnD mode, order champagne or ask for housekeeping. The level of personalisation is in line with the trends we are observing in the hospitality industry.

ECOFELLA - MELLE BAX
Across the world, plastic waste is a serious issue in various sectors. Ecofella offers environmentally friendly bamboo products to reduce plastic waste. The objective is to make hotels more sustainable and to give guests a sustainable experience.
FLEXIPASS - PATRICK LOMSDALER
Flexipass is the world's fastest and easiest way for your guests to access their room via smartphone. With just 2 easy steps guests gain direct access to their room.
SOULPICKS - ROD HENSEN
Soulpicks transforms the hotel and its personnel into experts, increases interaction with guests and ensures better ties with customers. We do what we do because we believe in quality, authenticity and memorable experiences. We want to help great companies to make their service excellent with a technical solution that is made with that purpose in mind.
IGNORE AMSTERDAM - JULIEN VAN HASSEL
We launched Ignore, a truly new Dutch design label, in September 2019. Ignore was called into being because we were unable to find our style in a lot of the products that we were seeing. With this first collection we are setting out our vision of design in a powerful way. It enables us to make spaces more beautiful, but above all else, more peaceful. Using a minimal foundation we are still capable of creating a very warm ambiance. Ultimately, it also needs to be visually satisfying, as this makes staying in a hotel significantly more enjoyable.
In addition we have a B2B branch, Ignore Projects, which offers smart solutions for daily issues that people have in public spaces. Things like flexible working in hotel lobbies, but it also includes decoration of these kinds of large spaces
GRACE APRIL - GRACE PLUMMER
I am a surface designer, creating bespoke wallpaper. My designs lend themselves to a commercial market and or a commission projects in hospitality, big and small. I am versatile with my 'creative handwriting', with the ability to swap from minimalism to impressionist work in a heartbeat. My designs are created for the pure function of being felt, a snapshots of a story to be realised through others experiences. The core fundamental values to my practice are block colour and addressing shapes. In this particular collection, my inspiration is derived from a feeling of misunderstanding and aligned by curiosity of space. I recycle these visions and transform them into a basic form of communication. I wanted to expose the inherent minimalism of spatial experience.
TUTAKA - FRANZISKA ALTENRATH
Our mission is to make the hospitality industry more sustainable. We deeply believe in sustainability as a quality dimension. Truly good and modern guest experiences and work environments are sustainable. We want to enable hosts to provide those experiences. We thus built a marketplace with a broad variety of products and services: yoga mats made from foam industry leftovers, PET Upcycling Slippers, straws made of straw, bio cotton sheets, towels, bathrobes and workwear, solid soap dispensers and much more.
HOW WILL YOUR BRAND HAVE AN IMPACT ON THE FUTURE OF HOSPITALITY?
YOUR-Q.COM
- DAPHNE BEERS
It contributes by offering training in an intuitive and effective way, taking advantage of the needs and development of employees. This increases employee satisfaction and loyalty, which in turn contributes to bonding talent with organisations and to the sector.
BAGPOINT - RUTGER VAN BEEK
Hospitality stands for service and peace of mind. Bagpoint contributes to this by providing the traveller a significant service. Bagpoint relieves hotel guests of having to deal with their luggage, while at the same time providing a convenient and efficient service.
YACHTCLOUD - NIKUSIA KOOIJMANS
The future of hospitality will be entirely about a combination of personal service and a unique experience. GEST is a solution that reacts to both of these trends. Guests decide for themselves when they need a specific service. This luxurious and one-of-a-kind product is a real eye-catcher in interiors and will prove to be a completely new experience for guests. The integration with existing technical standards (wireless charging, communication via Wifi) makes its installation and operation easy.
ECOFELLA - MELLE BAX
Sustainability is an increasingly important element. More and more people are becoming aware of the plastic issue and are demanding change. Hotels can set themselves apart from their competition by using environmentally friendly products for a better environment and a better reputation.
FLEXIPASS - PATRICK LOMSDALER
Flexipass helps hotels increase operational efficiency and enhance the guest experience. Almost all guests have a smartphone, why not make it also their access key to their room.
SOULPICKS - ROD HENSEN
We have come up with a valuable digital experience and are resolving what is clearly an issue for both hotels and guests.
IGNORE AMSTERDAM - JULIEN VAN HASSEL
Ignore conceives forward-thinking furniture concepts with a minimalistic style, for the hotel and retail sectors. The majority of our products are made in the Netherlands, which shows that high-quality products can also be made here for a reasonable price.
GRACE APRIL - GRACE PLUMMER
Looking to the future, my work focuses on a design consideration that I believe to be the most important development in modern design: well-being; this serves as a primary consideration that I take into my work. Utilising this knowledge, I design bespoke personal pieces for projects. I stand for quality and the quirky and wonderful pieces that make heads turn, and how the colours interact within the space is something close to my heart.
TUTAKA - FRANZISKA ALTENRATH
The hospitality industry is highly dependent on flourishing ecosystems and peace. Climate change with all its social and ecological consequences as well as the way we exploit and discard resources are endangering the conditions our industry is built on. Transforming the industry towards sustainability is therefore key to keep business models resilient and striving. TUTAKA creates awareness and provides strategic frameworks and hands-on solutions for these transformative processes.
HOW WILL VISITORS REMEMBER YOUR BRAND AFTER HAVING A CHAT WITH YOU IN THE CONCEPT LAB? WHAT WILL THE "TAKE HOME" MESSAGE BE?
YOUR-Q.COM
- DAPHNE BEERS
They will see how they are able to engage, motivate and develop their employees, without feeling that they have had to invest a great deal of time (and therefore money). We are a partner that is striving for sustainable cooperation and to create a real connection between the business person and their team.
BAGPOINT - RUTGER VAN BEEK
Our bag drop system. Bagpoint wants to establish this system at all hotels, cruise ship ports, train stations and convention locations. Checking baggage in at the airport has never been closer. It is safe and has been approved by the European aviation guidelines.
YACHTCLOUD - NIKUSIA KOOIJMANS
Firstly, the combination of design & technical innovation is something that you want to add in a room, space or boardroom because it adds a 'wow' factor. Secondly, because the way the service is provided is more personal, guests feel that they are more special and valued. Finally, the technical innovation is that it can do a lot more a butler service can.
ECOFELLA - MELLE BAX
Ecofella addresses the seriousness of the plastic pollution issue and is a simple but effective way of reducing plastic waste. Our natural products offer simple and effective alternatives for plastic products.
FLEXIPASS - PATRICK LOMSDALER
We want to communicate how fast and easy our award-winning Flexipass solution is, and how hotels can advance their green initiatives further by reducing the use of plastic keycards.
SOULPICKS - ROD HENSEN
Soulpicks offers a fresh and qualitative voice with clear principles in a market that currently is negatively influenced by dominant players like Tripadvisor and Booking.com.
IGNORE AMSTERDAM - JULIEN VAN HASSEL
Our "take home" is a strong collection which is ideal for hotel interiors. Our mirrors are perfect for use in hotel rooms because they have convenient shelves. The "Lap dance" was specially developed for "the new way of working" in hotel lobbies and office gardens. The "Exposé" wall panel can also be custom made for every lobby, and can be used to create, for example, a neat, vertical garden.
GRACE APRIL - GRACE PLUMMER
I see myself in harmony of being both a designer and artist. I create surface pattern design for wallpapers and can create bespoke commissions designs for big and small projects. My art acts as a language to create stories and experiences which can be felt and understood but to be truly ignited it must be displayed and beheld to speak its language.
My projects can differ in styling but my constant is concept and colour. My strength is this consistency to create new and bespoke thoughts. To dance between the chaotically beautiful to the uniquely minimal, all still whilst remaining in bold colour choices. Colour is more than just a consideration for me. Through synaesthesia, I create through intuition and which inherently is accompanied by a feeling that translates as a hue. This ability gives me the opportunity to be a part of personal projects that I can become easily connected to and really understand a space I can represent the design in.
TUTAKA - FRANZISKA ALTENRATH
They will be amazed by the immense storytelling potential of sustainability. They will have understood that they can start today and that it is not as hard as they had imagined. They will be excited about their own transformation and see how sustainability will not only provide better guest experiences and brand differentiation, but also help them to build a strong employer brand. We will have spoken about how to avoid cliches and greenwashing. They will know who to call when they want to get started with their own, unique sustainability journey.
Discover inspiring and ultramodern solutions at The Concept Lab, designed by Robuust Amsterdam, at the Independent Hotel Show Amsterdam - 17 and 18 March in RAI Amsterdam.