17 Apr 2019
THREE KEY QUESTIONS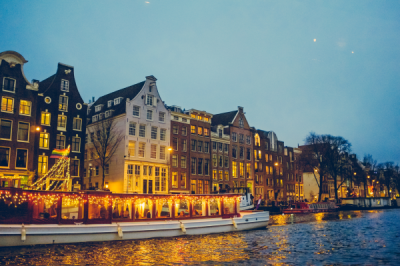 Because Independent Hotel Show Amsterdam is as much about collaboration and sharing knowledge with other hoteliers, as it is about the 120 specialist exhibitors and dedicated education programme, we asked our community partner, SEVERS+JANSEN, The Hospitality Studio, to venture out into the hotelier community to get the answers to three key questions.
Below you'll find insights from Bill van der Valk from Van der Valk hotel Schiphol; Dita Guth, the founder & owner of Salotto Rosso; Kristel Dom, hotel manager at Canal House Amsterdam and Anne Gorthmanns owner and manager of Strandhotel at Cadzand Bad. We hope you find them useful!
Today's traveller can no longer be defined by just one feature - the world is fluid, and so are the wishes of the traveller. With this in mind, what would you describe as your holy grail for hospitality today?
Anne: Continue to surprise with a story and an experience that goes beyond regular check-in; perhaps personalised attention for the guest or breakfast with home-made products and regional products. Guests want to experience something that they can share afterwards with family or friends.
Bill: This is a recurring topic of conversation with us. Take check-in, for example, which has become increasingly more digital, however at Van der Valk we believe that the role of reception remains essential. Perhaps the systems will be more sophisticated or digital than we are used to now, but with a personal touch such as a cup of coffee when checking in, for example.
Dita: Service with a 'small details' perspective. Greeting me by my name, knowing ahead of time what pillow or wine I like, arranging restaurants or activities that are tailored to my interests, introducing me to other guests who are on the same frequency. A concept can be fabulously executed, but if the small personal touch is ignored, then it doesn't matter how great the grandeur is.
Kristel: At Canal House, the guest experience is something that you share from the heart. The modern guests are spoiled for choice in terms of design, technology and supply, but our approach is to spoil guests with our attention - attention to detail, empathy, a smile and to genuinely care for them.
In our experience, every hospitality project needs a good foundation with a storyline from the start. What do you think about this?
Anne: It is essential to clearly convey the mission and vision of our company to our guests because these days they are much more critical, and hotels must meet more criteria increasingly. It is also essential that location and storyline with the products being offered are correct and match with the person who experiences it. An excellent example with us is Herborist Evy; she is ultimately responsible for all spices and picking within our hotel and restaurants. These herbs can be found in our kitchens, as a garnish and in the breakfast products, in welcome drinks and juices or decoration in Pine House. Upon request, guests can join Evy through our herb garden or even fill their own unique weck jars with a freshly picked blend.
Bill: Laying a foundation is the basis, although sticking to it is sometimes a challenge. There are hotel chains that have started with one pricing strategy throughout the year. Yet, for example, linked to a regional congress or event, the price is adjusted upwards. I think that's a shame, you must always keep the promises to your guest. With us these are also tricky decisions: free parking at our hotels has always been a strong USP, but now that we are building a hotel on the Amsterdam Zuidas this becomes a challenge because the city cannot make many parking spaces available for Van der Valk.
Dita: While I love a good story, a story must be attached to something personal about the storyteller. Some use stories as a smoke and mirror tactic to lure you into becoming their consumer. But when their story is representative of THEM, folding you into their story and making a place for you to take ownership of their story, then you gain a client for life.
Kristel: Guests today are looking for an experience, something unique, a story that they can identify with. You want to surround yourself with like-minded people, talk about it, post about it. As a Canal House team, we are one identity to the outside, we know who we are, what we want to radiate as a hotel, and how we can reach guests with the story about the Canal House. So yes, we believe in a story that appeals to guests.
In the current - competitive - hotel market do you see there being space for independent hotels?
Anne: Yes, because independent hoteliers are distinctive, surprising, and unique! My opinion is that they offer unexpected experiences that are tailored to the expectations of the guest appropriate to the location of the hotel. Independent hoteliers can sometimes act faster and respond to the wishes of the guest in a personalised way.
Bill: I think that there is and remains sufficient space for independent hoteliers in this strong economic time. Personal contact is often offered extensively from an independent hotelier. My experience is that chain hotels sometimes fall short here; I think everyone tries it sincerely, but from an independent status, it comes across as more authentic, and this results in returning guests.
The challenge however is the involvement of international reservation systems to which an independent hotel is (often) not affiliated. This makes it very difficult to beat the chain hotels in this competitive market!
Dita: Although it may be more difficult at the beginning for the independents in terms of gathering market share and ROI, in the end, we are moving towards a market that wants more than just a meal or hotel stay and more of an experience.
Kristel: Certainly, the modern guest sees themselves as an individual traveller and wants to be treated that way. They are often looking for a unique or wonderful experience in authentic environment with genuine contact! This market will only continue to grow because people have lost contact with themselves and each other. At the home of independent hoteliers, you experience how real you feel again.
Join the hotel community at Independent Hotel Show Amsterdam, 8-9 May at RAI Amsterdam. Owners and GMs are invited to connect and share stories, challenges and experiences on everything from training and service, to marketing tips and finding the best suppliers in the Social Business Space at the show, find out more here.