07 Aug 2020
AN OPERATOR'S GUIDE TO HOSPITALITY TECH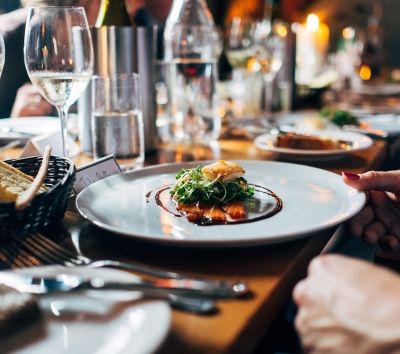 Creative insight agency KAM Media have put together an operator's guide to hospitality tech, which highlights the key findings from their recent survey. The report outlines consumer expectations and emphasises how important innovative technology will be for operators to move forward and fulfil their customers expectations when eating and drinking out.
Say hello to contact-free hospitality
With predictions of what the future may bring being shouted from every rooftop, there is one theme that consistently rears its head when anyone speaks of how our great hospitality industry will survive. Technology, technology, technology.
Be it tech-enhanced, tech-driven or tech-enabled, new technologies are playing a significant role in helping hospitality operators navigate their way through the current crisis. It is also having a huge impact on the customer experience.
During a lockdown chat, Yummy Pubs co-founder, Anthony Pender pointed out, "we're asking our IT companies to deliver tech solutions in 8-10 weeks so I'm sure there's going to be challenges. But I think we're going to see four years' worth of innovation taking place in 6 weeks, because we have no choice. What we start now will need to quickly evolve by Christmas to be even more advanced."
Using technology to re-assure customers
Recent research by KAM Media has shown that the number one reason people will stay away from pubs and restaurants is because they are worried for their health. Pubs have two main challenges here; one is ensuring they meet government guidelines and the other is to manage customer perception of safety and ensure they feel confident in a venue.
Consumers are more 'information hungry' than ever as they remain 'alert' to the potential risks from Covid-19 and technology and digital channels can play a role in improving communication and re-assuring customers. 92% would like to see clear communication of safety measures and procedures. Customers tell us that the information they now want to access via company websites includes safety measures which have been implemented (50%), how busy the venue is at certain times of day (37%), and even cleaning schedules (29%.). A company website and social media are the first step to communicating such measures.
Ben Lockwood, Marketing Manager – Ontrade at Brewdog agrees; "It's clear that, coming out of lockdown, digital and social will have an even bigger role to play in how pubs communicate with their customers. Used correctly, they will help in the mammoth task we have; making sure that customers have the confidence to come back to the great British pub or their favourite craft beer bar. Now is the time to understand where technology can help take some operational pain so that we can focus on the customer experience."
Introducing contact-free dining
Hospitality is currently re-inventing itself to do something which really goes against its very ethos. Where the best operators always tried to maximise the contact points with their guests, many are now having to do exactly the opposite. Withdrawing themselves and limiting contact. Technology will form a large part of any future service.
Many new apps are being launched to help on-trade operators navigate contact-free reopening and adapt to post-lockdown government measures. Recent research from KAM showed that there is clearly a place for technology which allows customers to order and pay at table on their own devices as well as pre-ordering services. 40% of customers say they would like an app so they can place orders at the table. 32% would like an app so they can pay with their phone. All of these measures help minimise customer contact.
But actually, this desire for technology-enhanced hospitality experiences isn't new. Many customers, especially Generation Z, have been asking for this for a while. 1-in-2 customers think that pubs and bars in particular are behind other leisure outlets and retail when it comes to their use of tech. Even before Covid-19 hit, 43% of 18-34-year olds had used an app to pay a bill in a pub or restaurant. 28% would have liked the ability to order and pay for their bill before even arriving at the restaurant.
Frictionless technology is the key to success in hospitality. Its use should streamline time-consuming processes and free up staff to focus on the most important aspects of customer service, and in the current environment help keep staff and customers safe.
Avoiding a sterile customer experience
We all know that atmosphere is absolutely key to an outstanding customer experience and, by making it increasingly contactless, operators are at risk of making it increasingly sterile. Recent data from Feed It Back suggests that customers are generally less satisfied with the atmosphere in venues compared with pre-lockdown.
3-in-4 customers think it is the venue's responsibility to ensure that they have a positive and memorable experience when they visit, so the pressure is on for operators. Making a customer feel safe is the number one priority for venues right now, and technology definitely has a huge role to play in that, but operators obviously need to ensure they are also providing a fun, enjoyable experience too.
Start with the customer, not the tech
The key to technology success in hospitality in general is to not start with the tech but to start with the customer - always. Consider the key challenges and demands that they have, both now and in the longer term. Customers want to feel safe, they want friendly and helpful staff, fast and efficient service, good availability of quality food and drink and an inviting atmosphere.
These core customer needs are the starting point from which technology needs to evolve in the hospitality channel. Technology should always be aimed at improving the experience. Frictionless technology is key– you may not see it and it may not get onto Instagram but technology that replaces basic staff roles, quickens the processing of payments, or ensures stock levels are optimal are all sure-fire ways to improve the customer experience. This should always be the end goal; a gimmick will get a like but getting the basics wrong will not get a follow.
You can access KAM's new white paper "The technology enhanced customer experience" here.
---
For more support and advice surrounding hospitality tech, visit our 'Spotlight on... Technology' page.
KAM Media is a boutique research consultancy, specialising in hospitality and retail, running bespoke and syndicated customer research programmes for both pub companies and on-trade suppliers, such as Punch, Ei Group, Shepherd Neame, Wells & Co, Carlsberg, Matthew Clark and Accolade Wines.
Find out more about KAM Media by visiting the website, Twitter or contact Katy directly.
Website: www.kam-media.co.uk
Twitter: @KAMMediaInsight
Email: katy@kam-media.co.uk
Call: 07841 666325